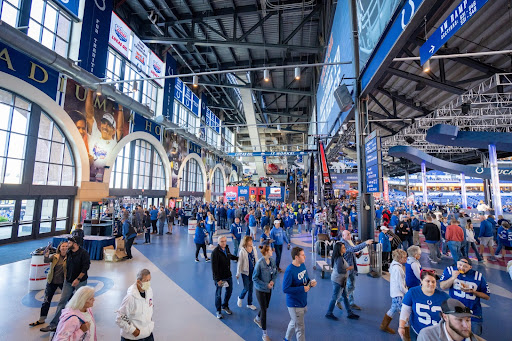 Originally signed in 2006, the Indianapolis Colts celebrate over a decade of support for "The House that Manning Built" and collaboration on philanthropic work throughout Indiana
INDIANAPOLIS (Nov. 22, 2021) - Lucas Oil Products, the world leader and distributor of high-performance automotive additives and lubricants, celebrates its 13th year as partner to the Indianapolis Colts football team and namesake to the team's premier home arena -- Lucas Oil Stadium. A 20-year agreement signed in 2006 made Lucas Oil the team's most prominent partner and has made them an integral part of the Colts organization. In addition to naming rights, the stadium's north gate was designated Lucas Oil Plaza – a fan zone complete with product displays, several authentic race cars, speed boats and the famous Lucas Oil stunt plane.
New for 2021-2022 Season
Fourth Quarter T-Shirt Drop – Lucas Oil is showing their fan appreciation by dropping 250 t-shirts into the stands from the stadium roof using small parachutes. This is one of the biggest t-shirt giveaways in professional football. One t-shirt each game contains a "Winning Card" that a fan can turn in at the GearBox for a $250 Visa Gift card. Visit LucasOil.com/ColtsShirt for complete contest rules.
Fueling the Colts – Lucas Oil is the title sponsor of this unique video series designed to give fans behind-the-scenes access to team practices, game day preparations and different aspects of Lucas Oil Stadium. New videos to be added throughout the 2021-2022 season.
Lucas Oil SELFIE STATION! – Fans can win a trip for two to the 2022 NFL Draft by taking a selfie at one of three selfie stations in Lucas Oil Plaza and sharing it on one of their social media channel with the hashtag #LucasItWorks. Entries must be submitted by 11:59 p.m. (EST) Jan. 2, 2022. Visit LucasOil.com/ColtsSelfie for complete contest rules.
"For the last 13 years, we have enjoyed an incredible partnership with the Indianapolis Colts, and it is an honor to be working with such a world-class organization," said Katie Lucas, Vice President of Strategy and Philanthropy. "One of the best aspects of the partnership is our shared commitment to helping others through annual philanthropic initiatives. Working together, we are able to greatly increase our impact and we look forward to continuing this partnership for many years to come."
Lucas Oil and the Indianapolis Colts are making a difference through a variety of philanthropic programs:
"Our partnership with Lucas Oil over the past 13 years has been remarkable for both organizations, and we could not have asked for a better long-term partner," said Ryan Lobsiger, Vice President of Corporate Partnerships. "The excitement they've brought to our organization over the years really shows their dedication to the team, and we are grateful. From our philanthropic efforts off the field to the amazing work they put into Lucas Oil Plaza, we are very excited to have them as a member of the Colts family now and long into the future."
For more information or to schedule an executive interview, please contact This email address is being protected from spambots. You need JavaScript enabled to view it..